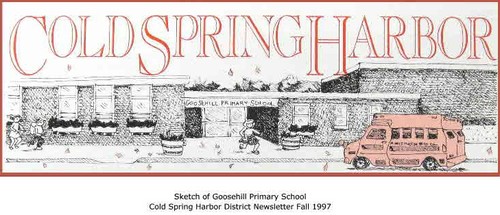 Goosehill Primary School House 1993-present

Superintendent Dr. Roberts made several suggestions about overcrowding to the board throughout the late 1980's. In September of 1992, the board began discussions with the Space Advisory Committee focusing on the increase in projected enrollment and the overcrowding in the elementary schools. Twelve suggestions were made but most not considered because of practical, financial, and educational reasons. Two of the possible solutions considered were to have a kindergarten or primary program at the Community Center, or add additional classrooms, permanent or otherwise, at the two elementary schools. Dr. Roberts recommended in February 1993 to renovate the unused space in the Community Center to be used as a "Primary Center" beginning in September (the Fourth East Side School Building). It would include an extended day kindergarten program as well as a full day first grade. The school board accepted his recommendation in March, and by June it was officially named "Goosehill Primary School".

Dr. Roberts said -

"…It provides kindergarteners and first graders with a distinctive place of their own, and at the same time, allows the two existing schools, Lloyd Harbor and West Side, more flexibility in the use of their facilities."

From School newsletter dated spring 1993.

Only kindergarten students attended the first year and administrative responsibilities fell on the superintendent and the principals from West Side School and Lloyd Harbor School. There was a lead teacher on site who also taught class. The following school year it would become a kindergarten and first grade facility. Mrs. Lydia Bellino was hired as the principal in 1994.

In 2008 the "Best Day" kindergarten program was introduced. Students would attend class from 8:30 am until 2pm.

One of the traditions celebrated at the school is the "100th day of school celebration". Students create a project with 100 items which are displayed throughout the school.

Renovations and additions to Goosehill Primary School:

1995: 1 classroom.

1997-1998: Music room, art room, and 1 new classroom.

2002-2005: New library/media center and nurse's office.

September 2008: New entrance, main office, 2 classrooms, special education room, and two conference rooms.