Ms. McLaughlin

ART

West Side School and Goosehill Primary School
Welcome to - Ms. McLaughlin's Home Page
Hours:

West Side School

Monday and Tuesday - 8:30-3:30

Wednesday - 12:00-3:30

516-692-7900

Extra Help: 8:30-9:00 am Mondays and Tuesdays. Please email me for an appointment.

To sign up for a conference on March 22, 29 or April 5, please click on link:

NOTE: Art conference will take place at Goosehill Primary School for West Side Art

Goosehill Primary School

Wednesday - 8:15-11:15

Thursday and Friday - 8:15-3:15

631-367-5990

Extra Help: 8:30-9:00 am Thursdays and Fridays. Please email me for an appointment.

To sign up for a Conference on March 22, 29 or April 5, please click on this link:
The Goose Hill Primary School art program focuses on the Elements of Art (line, shape, color, form, space, texture, value). We build levels of creativity and dexterity skills to help students draw, paint, sculpt, cut and paste and show their creativity in various ways.

West Side School was challenged to create images using GRIT words and phrases in the Art room. In teams, the students expressed their phrases in pictoral form. One winning team from each class was rewarded by having their work of art permanently printed on canvas and are proudly displayed in our hallways.

The Goose Hill Kindness Garden was created by our First Grade students to remind one another to be caring, kind and compassionate. The colorful garden can be seen in the courtyard at Goose Hill Primary School.
These benches were created with art teacher, Ms. McLaughlin and the 6th grade students from 2016/17 and 2017/18. The students were inspired by Pop artist, Roy Lichtenstein and Brazilian artist, Romero Britto and incorporated their own tiles and slats with vibrant designs and GRIT phrases.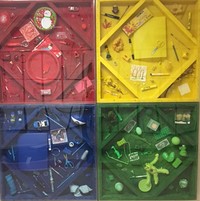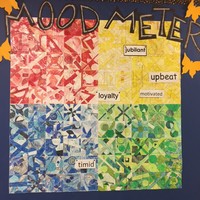 These Mood Meters represent the philosophy from the Ruler Effect where students express their feelings based on color quadrants. They created one in 3-dimensional form using found objects from this decade and the other in 2-dimensional form using geometic shapes and lines.
Goosehill families, please visit our hallways and see our students' artwork. We are so proud of their achievements!