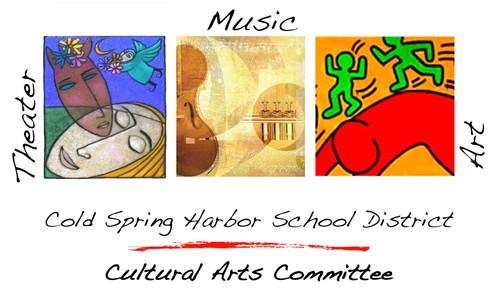 Cultural Arts Committee
Think back to when you were in school….what are the most memorable events ?

Assemblies, performances, hands on interactive experiments, an encouraging speaker ?

The light bulb goes off when children are exposed to new ideas, sights, sounds, different cultures …creating something new…being exposed to something far beyond their normal every day life. That's part of what CAC strives to bring into the classroom with your teachers throughout the school year.

The Cultural Arts Committee was organized by a dedicated group of parent volunteers to bring enrichment programs to students during the school day in collaboration with teachers and administrators. These programs are funded by parent groups of each school and the District. CAC is a district wide committee and a subcommittee of each PTO in every school, (see roster list) with monthly meetings on the Calendar and all are welcome.

In working with building principals, department chairs/directors and classroom teachers CAC provides a broad spectrum of Arts – in –Education programs within each school. We take advantage of quality programs recommended by Eastern Suffolk BOCES, as well as Tilles Center, Theatreworks USA, The Hecksher Museum and many others. It is our policy to preview every artist and program that comes to our schools to make sure it meets our standards for learning K through 12.

Cold Spring Harbor is one of the few districts outside New York City that "partners" with the Lincoln Center Institute in our elementary schools with at least two programs a year. The Institute offers exposure to quality programs and/or performances with preparation and follow-up workshops for both teachers and students. Many of our teachers have gone through the summer training Lincoln Center programs, which benefit everyone.

Recognizing that exposure to the arts is a fundamental component to Education, the committee provides programs in theater, music, poetry, storytelling, literature, writers workshops, dance and visual arts. These programs encourage and strengthen each student's ability to think creatively and critically. The Arts foster imagination, sensitivity and discipline, as well as enhance skills in all areas of academic curriculum. Colleges (and Graduate schools) are actively looking for students who have been exposed to the "arts" and there are many scholarship opportunities available. When desired and practical, programs complement the curriculum, promote interdisciplinary studies, as well as foster multicultural and aesthetic awareness, and involve teachers and students in active participation. Such programs can be offered in assemblies, classroom workshops, demonstrations and artist residencies.

All of our programs offer invaluable educational experiences that enrich our students learning by:

enhancing academic skills and strengthening curriculum
exposing students to the "arts"
developing creative and independent thinkers
addressing different learning styles
cultivating respect and refine sensibility, especially to new & different ideas, cultures and customs
promoting cross culture understanding
broadening students' 'horizons' and encouraging their passions

Visit the district's online calendar for up

coming events.